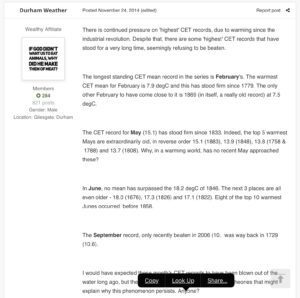 This is a post I made to the NetWeather forum in November 2014 about some of the longstanding records in the Central England Temperature Series (CET). This series goes back to 1659 and is a record of temperature in the Midlands of England. The stations it is computed from are very rural, so Urban Heat Island effects should not be present in the data. It is very homogenous and regarded as a very significant record when analysing today's warming.
"There is continued pressure on 'highest' CET records, due to warming since the industrial revolution. Despite that, there are some 'highest' CET records that have stood for a very long time, seemingly refusing to be beaten.
The longest standing CET mean record in the series is February's. The warmest CET mean for February is 7.9 degC and this has stood firm since 1779. The only other February to have come close to it is 1869 (in itself, a really old record) at 7.5 degC.
The CET record for May (15.1) has stood firm since 1833. Indeed, the top 5 warmest Mays are extraordinarily old, in reverse order 15.1 (1883), 13.9 (1848), 13.8 (1758 &  1788) and 13.7 (1808). Why, in a warming world, has no recent May approached these?
In June, no mean has surpassed the 18.2 degC of 1846. The next 3 places are all even older – 18.0 (1676), 17.3 (1826) and 17.1 (1822). Eight of the top 10 warmest Junes occurred  before 1858.
The September record, only recently beaten in 2006 (10.8) was way back in 1729 (10.6).
I would have expected these month's CET records to have been blown out of the water long ago in this era of warming, but they haven't been. I'd be interested in any theories that might explain why this phenomenon persists. Anyone?"
Since this was written nearly 5 years ago, still none of these long standing records has been beaten. The May record is an extraordinary one, being a full 1.2 degC warmer than the 2nd warmest May (1848) on record.
From Roger J Smith on the same thread, from March this year:-
"Also long-standing would  be some of the highest daily values.
Jan has three tied from 1834, 1932 and 2016.
Feb only goes back to 2004.
Mar was sitting with its 1777 record until 2017 broke that one.
Apr continues to rely on 1775 (19.7), last year moved into second place but two degrees short of that.
May goes back to 1780 which was not quite eclipsed in 1944.
June has an oddball record quite early in the month, most climate stations have a late June daily record max. That one was set in 1947, nothing in the 1976 heat wave or other attempts broke it.
July remains stuck on 1948. (this was equalled this year at 25.2 degC – Dave)
August goes back to only 1995.
September has their record daily mean max in 1906.
October established a new mark in 1985 and that was almost broken in 2011.
November goes back to 1938.
December is the second most recent all-time value from 2015. Before that it was still recent (1994)."
Is it just a matter of time? I think the most susceptible are the February and September monthly CET ones. April is an interesting example in this respect with the record of 10.6C standing from 1865 until being broken in style 142 years later (2007 – 11.2C), only for it to be broken again by another considerable amount just 4 years afterwards (11.8C – 2011).
What do you think?

(Visited 9 times)