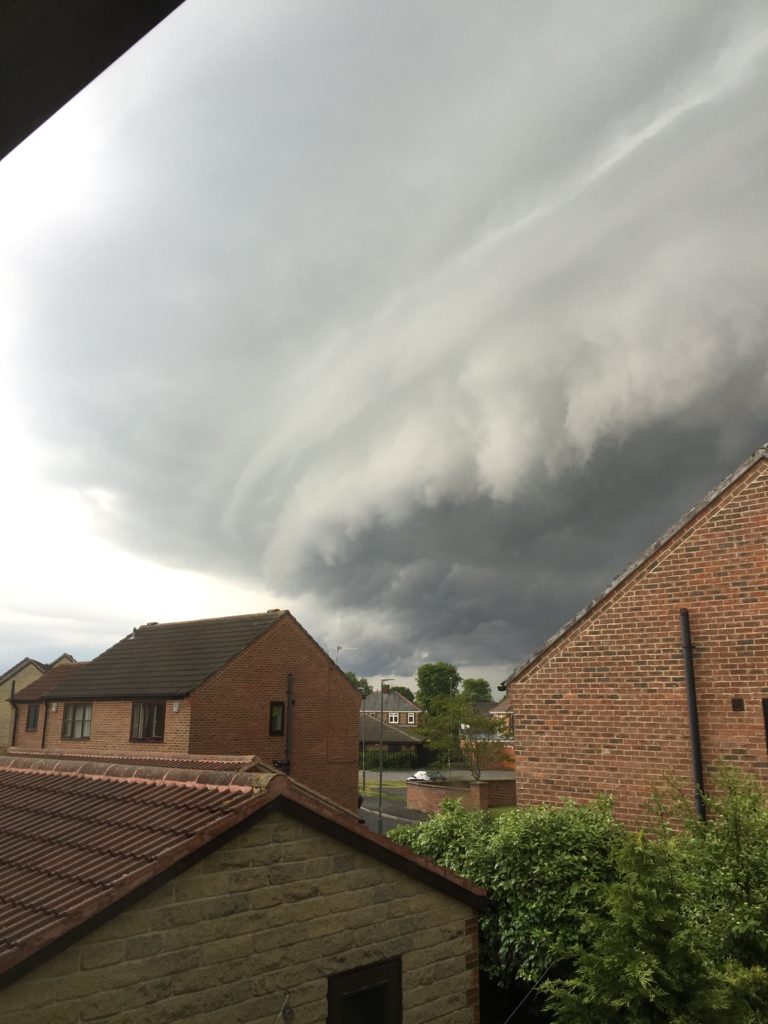 This incredible Shelf Cloud, looking like an alien spacecraft from the film "Independence Day" came in over Durham in July 2015. Although it looked very threatening, on this occasion not much rain fell from it. It's the best example I've seen of a Shelf Cloud in the UK.
On 1st July 2015, the temperature hit 30 degC in Durham, being only the 30th such occasion since 1850 to reach the mark. The actual max was 30.2 degC. It was a very hot sultry day, which quickly degenerated into thunderstorms with rain and hail.
Met Office : Heatwave 1st July 2015
Here's a video from mid-afternoon
A shelf cloud is a low, horizontal wedge-shaped cloud, associated with a thunderstorm gust front (or occasionally with a cold front, even in the absence of thunderstorms). A rising cloud motion often can be seen in the leading part of the shelf cloud, while the underside often appears turbulent, boiling, and wind-torn.
Here's a dramatic lightning strike in Ferryhill, the same day

Why You Need a Home Weather Station
Use a home weather station to monitor your environment, both inside and outside your home, or install one in your greenhouse to help you keep an eye on the conditions in the garden. Home weather stations can bring you all sorts of data on the prevailing conditions: temperature, humidity, time, moon phase, wind speed, rainfall as well as air purity and co2 details.
Best Buy Weather Stations at Durham Weather Shop
weather station