The Weather in Durham
This Durham Weather website and pages are dedicated to the Meteorology of Durham City and my Weather Photography. I have been totally geeky about the weather ever since the blazing hot summers of 1975 & 1976. I started scribbling my weather measurements in a little notebook whilst still at school. I was thinking that nobody else would be interested in them. But I was wrong!
Moving the weather station to Durham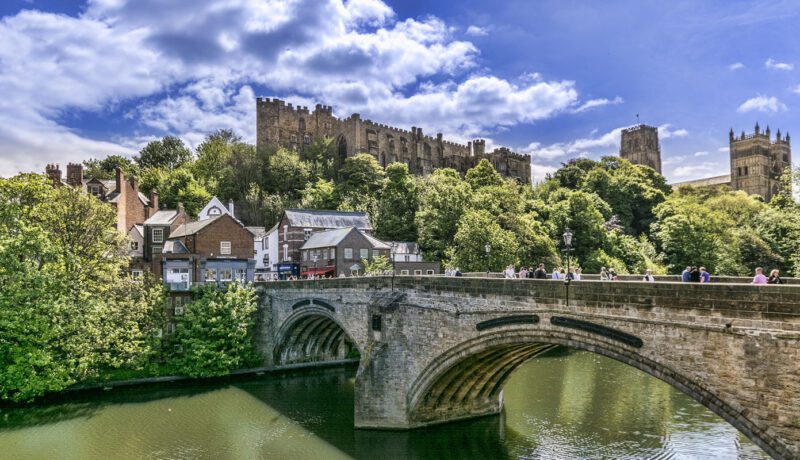 I used to live in Ferryhill, but since 2014, I have been living here in Durham City, where the climate is a little bit different. It's not as high as Ferryhill, therefore not as draughty. It's warmer  and slightly closer to the coast. It's also a city rather than a large pit village, so slightly more urbanised.
This makes Durham Weather a bit different as gardens are more sheltered, having hedges and plants rather than yards and concrete and outside netties (toilets). Temperatures can be modified a bit, but it also leads to more gustiness in windy weather as there are more buildings to disrupt the direct wind flow. You also don't lose the use of your legs in the outside netty.
I have a Durham Climate page detailing the typical climate of Durham and the North East and what to expect here.
What Weather Station do I recommend ?
At the moment, I'm using the rather smart NetAtmo Weather Station. Everything is connected using wireless trickery. I record temperature and rainfall, but not wind speed and direction as I don't have anywhere to mount the anemometer in a meaningful position, and really I'm just chicken s**t about climbing on the roof to site it.
The shiny NetAtmo gizmos log everything automatically and all the averages and the figures are calculated for me, like magic itself. It's a neat little system and not too expensive to own (under 150 quid). The sensors are battery operated and the AAA batteries last for ages.
I did have a little battery problem when I first got the kit, but NetAtmo sorted it out by sending me a replacement sensor in a couple of weeks. You can get one in the Durham Weather Shop.
Content of the Durham Weather Website
I've built up quite a pile of Durham Weather related photos over the years, which i'd like to show here if I can. There are photos of clouds, flooding, sunrises/sunsets, snow, sunshine and just nature and Big Skies. I try to write a little bit about each one and schedule them as if they were posted at the time I took them. These are all on my Durham Weather Blog.
I'd also like to display any weather themed photographs sent by my kind readers. Please note I'd require accurate timings and locations of any you send if you could. There's nothing worse than a photo where no-one knows who it was or where and when it was taken, I'm sure you'll agree.
We've all got plenty of black and white photos of nameless, unknown relatives in shoe boxes like that haven't we? So I want to avoid that if I can. I'll give you a full credit for any photos I feature (your name in lights). I can't afford to pay you though, unless you accept Coke ring-pulls as a weird kind of Wampum currency. Please contact me if you are interested.
Ferryhill Weather Website Archive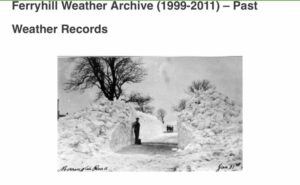 In addition to the Durham weather data i'm collecting now, I've also copied over the data from my old Ferryhill weather website. I was at my previous pit village location for 18 years and have records from the end of 1999 up until 2011.
Sad I know, but it's got the legendary snowy winter of 2010 in amongst it, so worth keeping for posterity. Ferryhill is about 6 miles due South of Durham City and a lot higher up. About 250ft higher up actually, right on top of a hill next to the old Great North Road. The main railway to London goes through it too, but currently it doesn't stop there!
I always got a good agreement between the Ferryhill stuff and that collected by the official Durham University Observatory site which I regularly mention in my blog posts here. It is the official Met Office one after all, so better keep in sync. It gives me kudos, see. The old monthly summaries are over on the Ferryhill Archive page.
Bonacina/O'Hara UK Snowfall History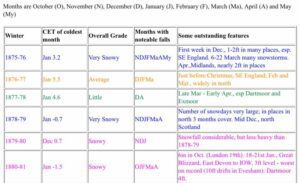 This is a continuation of the UK Snowfall History catalog developed by an old Italian guy called Leo Bonacina. It shows UK snowfall by year and it has been added to by me (because little old Leo is long dead) with information from other additional sources.
This brought it more or less up to date (the original only covered 1875-1975, a bit before my time). Each winter has been classified as 'Little', 'Average', 'Snowy' or 'Very Snowy'  and colour coded, depending on the amount of snow and how generally it fell. I try to add to it each winter. I get a lot of moans about it because I don't mention the few flakes that drifted down in a carefully hidden shower  in the middle of the night in October 1994, but I do my best.
It doesn't just show Durham snow or north east snow though, although they are referenced in the UK snowfall statistics. As I say, for my sins against the human race I have continued this UK snowfall history series at Durham Weather and have extended it to the present day, trying to summarise each winter snowfall in the same Leo Bonacina way. Also very sad, but hey, you probably have some weird habits too!
See the UK snowfall statistics in the Bonacina/O'Hara UK Snowfall History page here.
The Durham Weather Shop – Best buy Weather Stations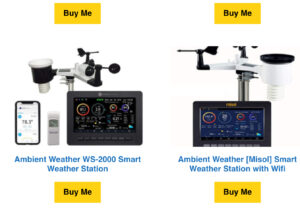 You can buy the best home weather station here! I have a little weather shop set up here at the Durham Weather website too (in association with Amazon.co.uk). Anything bought from it will support the site with a small commission, which will keep me in clothes. This is actually how I plan to make millions and move to Spain. I might die first, but at least it'll pay for a memorial candle or two.
I typically carry a selection of cost effective (aka cheap) Weather Stations that you can buy here. Perfect if you fancy becoming a geek, setting up your own system and starting to observe to prove the numbskulls at the Daily Express wrong! Snow Bombs my arse!
Get the Met Office weather for Durham here