Another page imported from my Ferryhill Weather website. These are some examples of lesser-known extreme weather that have been experienced in County Durham and the North East area of the UK. Some of them were short lived, and in some cases occurred in isolation against the rest of the seasons. It is anticipated that more will be added after research of the archives.
Severe and Extreme Weather in the North East of England 1901-2010
12-18 December 1901 Snowfall and Flooding
Heavy snow accompanied by a north-easterly gale affected much of Central and Northern England. Drifts of snow to 4m depth were recorded in North East England. Flooding followed between 15th-18th December 1901.
26-27 February 1903 Severe gale
A severe SW gale (Storm Ulysses) did much damage, especially in Northern England. There was widespread structural damage, with thousands of tree uprooted.
27-28 December 1906 Snowfall
A severe gale, accompanied by thunderstorms, swept Eastern Scotland and North East England. 35-45cm of snow fell in upland parts of Durham and Northumberland.
21-30 January 1910 Snowfall
Heavy snow with drifting affected NE England with level depths widely over 30cm (53cm at Wearhead in the Pennines) Several lives were lost and there were heavy livestock losses.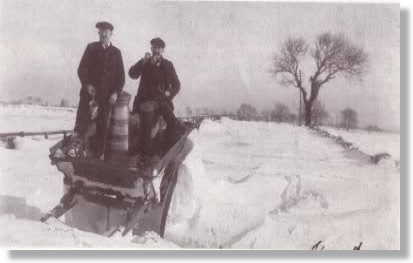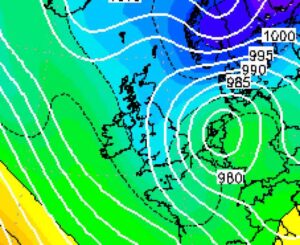 23-24 June 1911 Flooding
36 hour downpour deposited 110mm of rain in Upper Weardale. Extensive flooding in Northumberland and Durham. This took place early in one of the best summers that the UK has ever experienced.
10-12 January 1913 Snowfall
Heavy snow, with drifting affected Northern England, seriously disrupting road and rail traffic. Depths of 25-35cm widely observed. This snow occurred when a depression moved across southern England into cold air. The Northern flank received extensive snowfall.
18 June 1914 Thunderstorm
An extraordinary (unmeasured) deluge caused floods and landslips in the Ruffside district of North West Durham, near Blanchland and there were several lightning fatalities. There were reports of a waterspout/tornado. There were national storms on this day.
Mid-January to Mid February 1917 Cold and Snowy
Exceptionally cold, with snow laying 30cm or more deep in North East England during this period, with 45cm at Bellingham in Northumberland.
31 May 1924 Thunderstorms and floods
On the last day of Spring 1924. Heavy thunderstorms widely, 104mm of rain fell in Sunderland with serious flooding affecting large parts of Wearside and Tyneside.
23-26 February 1933 Snowfall
One of the most extreme blizzards of the Century. Deep snow with drifting. Some places had 48hrs of continuous snowfall, with an Easterly gale. Drifts were 14ft deep on the North York Moors.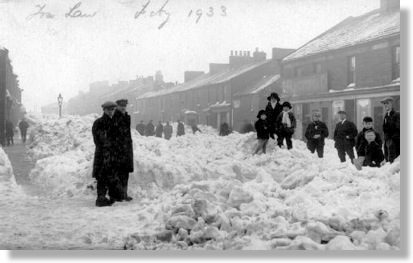 Deep snow with drifting. Tow Law Feb 1933.
24-26 January 1935 Severe Gale
High winds with damaging gusts. 87mph being measured at South Shields.
19-20 January 1936 Heavy Snow
Widespread heavy snow blocked roads and railways. Some roads were blocked for up to 10 days. Snow lay 30cm deep at Bellingham in Northumberland.
11-13 March 1937 Heavy Snowfall
March was the coldest month of the 1936-37 winter, some 2 degC colder than February. Over 60cm of snow fell at Barnard Castle in this late snowstorm.
21-22 December 1938 Severe Cold, heavy snowfall
After a very warm autumn, December turned cold around 17th/18th. On the 21st-22nd, 30-50cm of snow fell widely, with 60cm in the Pennines of West Durham. This was one of the best White Christmases experienced. The cold weather lasted until the 27th December.
5th January 1941 Severe Cold
This was the then English record minimum of −21.1°C at Houghall, near Durham.
18-20 February 1941 Snowfall then flooding
The great North East Snowstorm. Massive snowfall caused most transport routes to be blocked for several days. Six trains (with 1,000+ passengers) were stranded in drifts on the main East coast rail line between Newcastle and Edinburgh. Power and telegraph lines were brought down. 122mm of level snow was recorded at Consett, 107cm at Durham and 76cm at Newcastle. There was 67 hours of continuous snow in Durham. Houghall recorded -15 degC after the snowfall. Severe flooding then followed the thaw.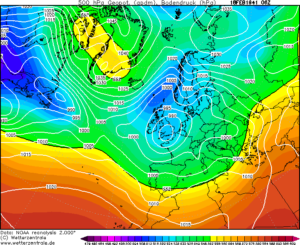 22 June 1941 Thunderstorm
113mm of rain was registered in a thunderstorm in Newcastle. Considerable hail damage in the district. June 1941 was otherwise a very dry month.
29-30 January 1945 Snowfall
January 1945 was a very cold month. The last week of the month was exceptionally so. A blizzard dropped 25-35cm of snow over a large area. Drifts of 6m blocked road and rail networks.
January-March 1947 Snowfall and flooding
Several major snowstorms contributed to snowdepths in this very snowy winter. Snow lay 86cm deep at Ushaw near Durham by early March and was measure at 210cm deep at Forrest-in-Teesdale. The temperature dropped to -21.1 deg at Houghall Frost Hollow. By March 12th, warmer moist air brought severe flooding.
8-9 February 1948 Severe gale
Much damage occurred over Northern England. 95mph recorded at Durham.
31 July 1948 Thunderstorm
Durham had a reported 0.5" of rain in 10 minutes in a thunderstorm on what was the hottest day of the year.
3 September 1948 Gales and Rain
Gales and rainstorms in Northern England during the night, three quarters of an inch falling in 2 hours on Newcastle, bringing the total in the last 48 hours to 1.57 inches. In south Durham where the rain was accompanied by thunder and lightning. The railway track between Spennymoor and Ferryhill was blocked by water covering the track and damaging the embankment. 2.59" of rain recorded at Houghall.
2 June 1953 Unseasonal Snow
On Coronation Day, snow fell around the Cross Fell area in the North West of the County.
13 August 1953 Thunderstorms
Surface water flooding in Newcastle, Durham, Spennymoor, Stanley, Bishop Auckland, Silksworth, and Darlington. Durham (University Observatory) 1.83"; Ushaw College 1.98".
9-28 February 1955 Heavy snowfalls
Heavy snow at higher levels, one of the snowiest periods on record. 'Operation Snowdrop' was initiated to drop supplies to upland hill farmers in the North and Scotland.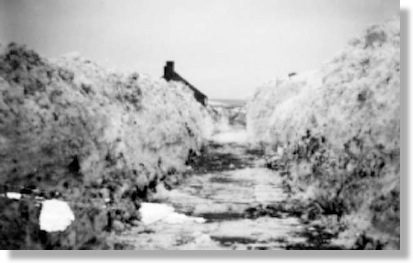 Wagtail Road, Stanley 1955
6-14 March 1958 Heavy Snowfall
There were exceptionally low temperatures recorded during this snowy spell. 36cm of snow was reported at Redcar on the North East coast.
16 February 1962 Gales
There were very strong winds associated with a depression that became famous for devastating the City of Sheffield. There was also damage in a broad swathe of North East England.
2 March 1962 Heavy Snow
North East England and the Scottish Borders were hardest hit. 38cm of snow lay at Haydon Bridge.
Winter 1962-63 Heavy snowfall and low temperatures, then flooding.
The first snows began in November 1962, when two shepherds near Rothbury, Northumberland, were lost in a blizzard and found frozen to death days later. A second covering fell on Christmas Eve. The North East would stay under an almost continuous blanket of snow until March.
On December 27, a four-hour traffic jam clogged up Newcastle after several lorries got stuck in the snow on Gateshead's West Street. Many remote farms and villages across Northumberland and Durham were cut off throughout January 1963. Even telegraph poles disappeared beneath massive snowdrifts. All roads to Scotland were impassable.
But problems didn't stop when the ice began to melt, with burst water pipes everywhere.
18 July 1964 Rain and Flooding
'Washout at Miner's Gala' The flooding also created havoc and flooding in other parts of the northeast. Thunderstorms broke over Durham City. 'Manhole covers are lifting and roads are flooded all over the county'.
1 March 1965 Heavy Snowfall
Snow fell heavily in North Easterly winds, with depths approaching 20-30cm.
29th March 1965 Spring Heat
Shortly after the early cold, the end of March produced a hot spell, with temps approaching 25 degC. Whitby had it's warmest day of the entire year.
13 November – 2 December 1965 Heavy Snowfall
Snow fell heavily and frequently in this period, often accompanied by strong winds, leading to extensive drifting.  Ushaw reported a maximum of 56cm of snow over this period. The 29th was the snowiest day, with snow nearly 2ft deep in Durham. Air pressure dropped to 962mb over the North East, indicating the depth of the storm.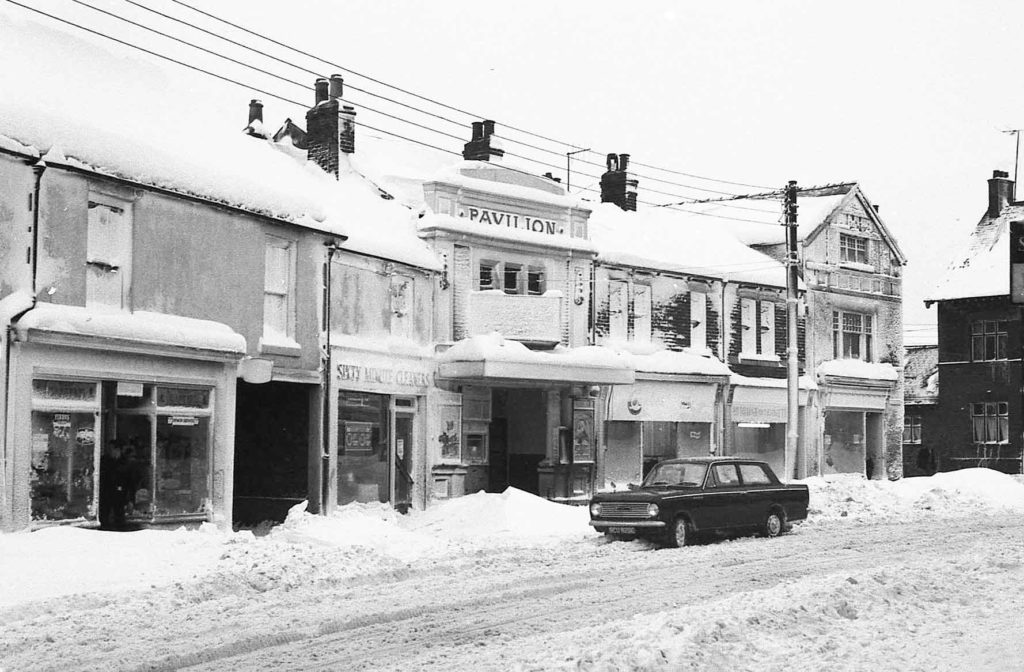 14-21 February 1966 Heavy snowfall, thaw and floods
A disruptive snowfall in this period with 30cm at Ushaw. A rapid thaw on 20-21 Feb accompanied by rain led to widespread flooding.
2 July 1968 Thunderstorms
'Darkness in Newcastle street as torrential rain drives pedestrians into shops'. Motorists were obliged to use headlights. Newcastle Weather Centre reported that extensive thunder clouds covering 10 to 15 mile patches of sky were passing over the city. Newcastle rainfall was 0.75 inch. At Whitley bay the subway on the seafront was at one time under 8 feet of water. Blyth was badly affected mainly with the loss of telephone services. Teesside was plunged into darkness and shaken by violent thunderstorms. Hailstones up to an inch in diameter hit Stockton and Thornaby. The Fire Brigade reported flooding in a wide area of Durham but especially from the Bishop Auckland area.
Rainfall: Elton 14.0 in 8 mins; W Hartlepool WW 26.7 in 15 mins; Darlington WW 15.2 in 13 mins; Durham 18.3 in 14 mins; Worsall Hall 21.6 in 20 mins; Darlington South Pk 23.1 in 40 mins; Hambleton Lodge Great Smeaton 28 mm in 10 mins.
Early June 1975 Unseasonal Snow
Snow fell down to quite low levels in early June 1975. 'Snow stopped play' was a common sight in local cricket matches. Within a few days the temperatures were sweltering in the 80's.
1 June 1976 Thunderstorm
Thunderstorm lasting 2 hours in Durham. Flooding of houses in Ushaw Moor, New Brancepeth, East Winning, Brandon and Lanchester. 'Farmers count the cost after incredible floods hit county' Worst floods in county Durham for years. Two council houses were flooded on Oakridge Road at Ushaw Moor and became uninhabitable. Farms between Brandon and Bearpark were worst affected. A bullock was washed away by a rising stream and seven acres of kale were lost to water streaming over the land. One small stream rose 10 feet and became 40 feet wide damaging a bridge. Other farmers suffered similar losses from topsoil washed away.
11 September 1976 Heavy rain and flooding
This was the wettest day in Durham since records began. Severe flooding after the drought broke, with 121mm of rain in Sedgefield, County Durham and 140mm in other parts of Durham in a North Easterly gale. Floodwaters nearly 2m deep flowed through the village of Stokesley near Middlesbrough.
11-12 January 1978 Severe gale and snowfall
A severe northerly gale brought a storm surge to the East Coast, Then 30-40cm of snow accumulated in parts of NE England. Further south, Margate Pier was destroyed by the storm.
9-13 February 1978 Snowfall
Deep snow disrupted transport and cut power lines in North East England. 30cm in Durham on 11th. Depths reached 50-80cm in upland parts of Northumberland, and lay 25-30cm deep in Newcastle by the 13th.
27 December 1978 – 4 January 1979 Rain, flooding and snowfall
Between four and five times the normal monthly rainfall were recorded in NE England this month, 118mm of rain fell at Arkengarthdale, Nth Yorks in 48hrs. The rain then turned to blizzards of snow after Christmas on gale force Easterly winds. Huge drifts built up over New Year.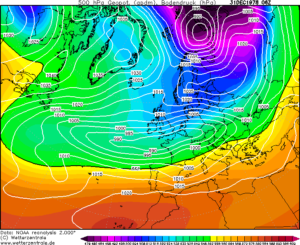 19-23 January 1979 Heavy snowfall
40-50cm of snow accumulated in snowstorms.
Mid February 1979
Snow drifted to depths of 6-7 feet along the East Coast in a howling Easterly gale and temperatures well below freezing on Valentines Day.
16-18 March 1979 Snowfall
A storm at the end of winter 1978-79 deposited 30cm of level snow on Durham (much more in drifts in local villages). In Gosforth, just North of Newcastle, the depth was nearer 45cm, with Newcastle inaccesible for a time, and smaller villages totally isolated, with authorities needing heavy earth-moving equipment to dig them out.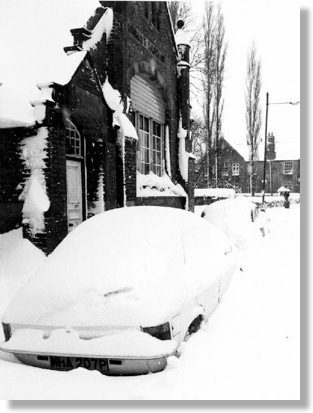 Snowfall in Durham City, March 1979.
2 August 1980 Thunderstorm
A number of houses in Durham and Chester le Street suffered flood damage. Manhole covers were forced off in North Road. One Durham University science laboratory had to be pumped out by the Fire brigade.
December 1981 and January 1982 Snowfall and low temperatures
Another cold winter for the region in 1981-82. Temperatures in the region dipped to an average minimum of -3.3 degC. Sections of the rivers Tyne and Wear froze solid – and even some parts of the North Sea north of Berwick froze over for the first time in living memory.
Overnight low temperatures broke into the record books when the mercury fell to -21.6 degC in Haydon Bridge. The record for the lowest temperature in England was set in January 1982 in Newport in Shropshire, which hit a bone-chilling -26.1 degC.
Throughout that month, the low temperatures caused havoc as diesel fuel froze in buses, snowploughs, gritters and bin lorries. Eighteen deaths were recorded across Tyneside as a result of hypothermia and exposure to the cold.
31 January – 1 February 1983 Gales
Severe North Westerly gales brought a gust of 93mph at Sunderland.
17 July 1983 Severe flooding
Destructive floods hit the North Pennines following a torrential downpour, and there were reports of peat bogs bursting in West Durham. 104mm recorded in Ireshopeburn in Upper Teesdale. Exceptional rate-of-rise of water was the feature of this storm.
26-29 December 1985 Snowfall
25-30cm of snow was recorded in NE England between Christmas and New Year.
25-26 August 1986 Heavy rain and flooding
The remains of Hurricane Charley caused chaos over the August Bank Holiday, with more than 100mm of rain falling in parts of Co Durham. There was severe flooding in the Dales, with caravans washed away from riverside sites.
7-9 February 1991 Heavy Snowfall
A phenomenal 46cm of snow fell in Longframlington and at Fylingdales. The snow was dry and powdery, driven in by a fierce North Easterly wind. This period brought the infamous 'wrong kind of snow' comment by a Southern England railway employee.
31 March – 2 April 1992 Severe flood
Prolonged heavy rain led to widespread flooding on the regions rivers. Urban flooding was extensive on Tyneside, with 110mm of rain falling in Newcastle in a 60 hour period.
13-15 May 1993 Flooding
70-80mm of rain fell in parts of North East England, leading to some flooding.
25-28 January 1996 Heavy snowfall
Heavy and prolonged snow blocked roads in the region. 20-40cm was typical, with 50cm reported from NW County Durham.
4-5 January 1999 Flooding
Serious flooding reported on the Tyne, Wear and Tees.
26 February – 3 March 2001 Heavy snowfall
Deep snow. 33cm measured at Boltshope Park in NW Durham.
8th January 2005 Gales
A strong gale affecting most of Northern England. Structural damage widespread. 85mph gust recorded at Leeming in North Yorkshire.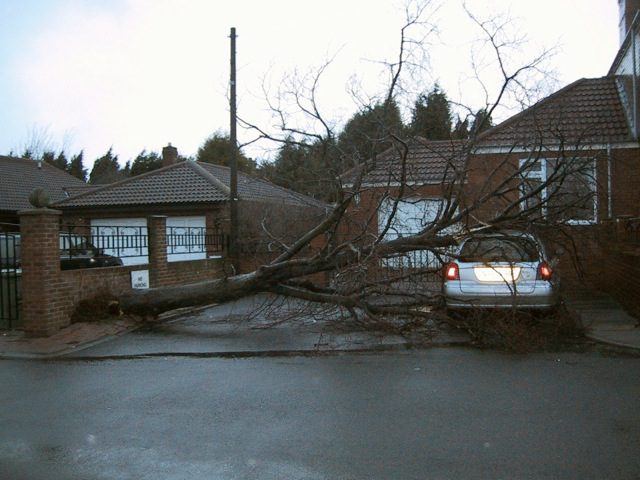 Gale Damage January 2005
24-25 February 2005 Snowfall
A snowstorm lasting 24 hours dumped lots of snow on upland areas in North East England. Snow lay 52cm deep in NW Durham and huge drifts piled up on the North York Moors.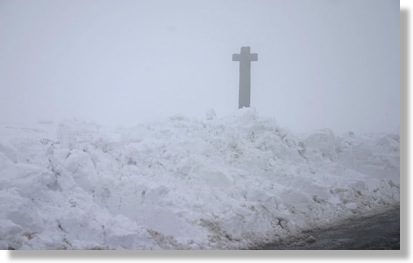 Snow on Blakey Ridge, North Yorks. Feb 25, 2005
17th July 2009 Flooding
This was an extremely wet day in the North East of England. The rain of 17th July 2009 fell over a very large area and was persistently heavy. Many local rivers burst their banks, including the River Wear in Durham and the River Browney at Croxdale. Both were up to 6ft above normal on the morning of 18th July. There were numerous roads blocked around the County by floodwater, and much damage was done.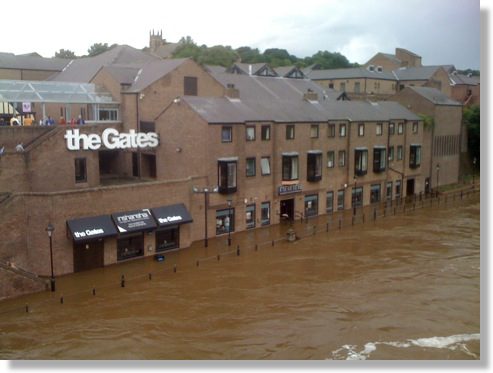 Durham Flood July 2009
Late November-December 2010 Extreme Cold and Snowfall
The last week of November has seen some of the worst weather in November for many a year. Parts of the North East and the East coast of Scotland have seen some significant snowfalls, with depths of over a foot in places. The severe weather continued into December, with record low temperatures across the country. The 2nd December 2010 received 25-30cm of snow, with 40cm further inland. December 2010 was the coldest December since 1895.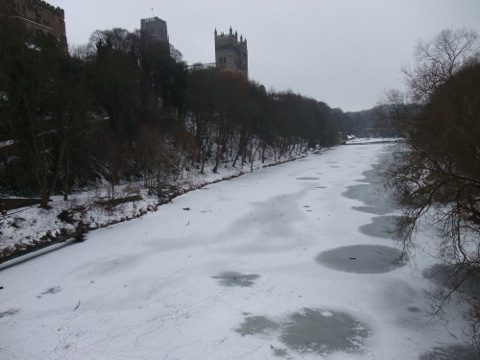 (Visited 835 times, 1 visits today)