As Christmas is over for another year, and we've been disappointed by the lack of snow again, we start looking forward to the New Year. What's sort of weather is normal for Durham in January? Well. looking at the means for Durham, and the extremes, we can see what range is 'normal'.
Durham Weather Extremes since 1850
JANUARY
Mean Temp : 3.8 degC. (Max 6.6, Min 0.9)
Warmest : 6.8 degC in 1916.
Coldest : -2.1 degC in 1881.
Abs Max Temp : 16.7 degC on 9th, 1888.
Absolute Min Temp : -17.2 degC on 17th, 1881.
Mean Rainfall : 52 mm.
Wettest : 188 mm in 1948.
Driest : 7 mm in 1855.
There isn't actually much difference between December and January now when compared to the 1981-2010 means. The normal max temp for January is just a shade under 7 degC, and the mean minimum is just a shade above freezing. The slight advantage that January has is that the days have started to lengthen. This starts to be quite noticeable by the end of the month. Bright sunshine averages just under 2 hrs per day.
January can be very cold indeed!
However, things can be a lot more severe, not normally for a full month, but it's typical to have a short spell of 4-7 days when the temperature averages around freezing and the weather is very wintery. Occasionally we get a month like January 1881 when the mean drops below freezing for the month as a whole. The mean for that month was a very severe -2.1 degC. This month was incredibly cold between about the 8th to the 27th in Durham.
When this happens and the ground is snow covered, intense loss of heat to space occurs and temperatures can drop really low. This usually occurs under influence of high pressure after a heavy snowfall. The lowest ever recorded in Durham was -17.2 degC on 17th January 1881, just prior to the great blizzard that dropped huge amounts of snow on areas further to the south. There had been snowfall after the 9th, then the east coast was under the influence of the Scandinavian High, but the North of England remained dry during the great Southern Blizzard, and had a freezing Easterly gale instead.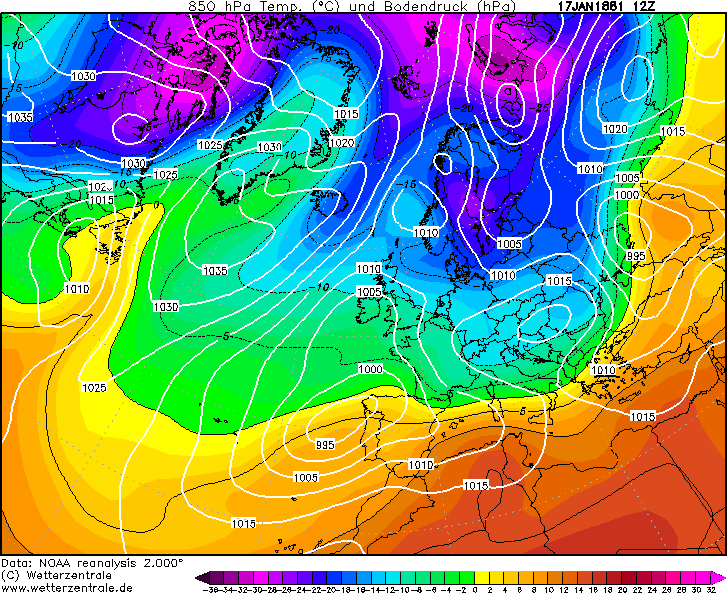 When the South  West winds blow …
On the opposite side of the coin, when winds blow from the west and south west, January can be relatively warm, but the usual downside is that it is also very wet as well. The warmest January on record in Durham was in 1916, slap bang in the middle of World War 1. In that month, the mean was 6.8 degC. This was about 4 degrees above the mean at that time, but it resulted in the sea of mud that the soldiers fighting in France had to endure. Rainfall was way above average in 1916, but it still wasn't as wet as 1948.
The highest temperatures can occur when air approaches from the South West around a High Pressure system, when it crosses the Pennines and can also benefit from increased warming from a Fohn effect, this happened in 1888 when Durham experienced it's warmest January day.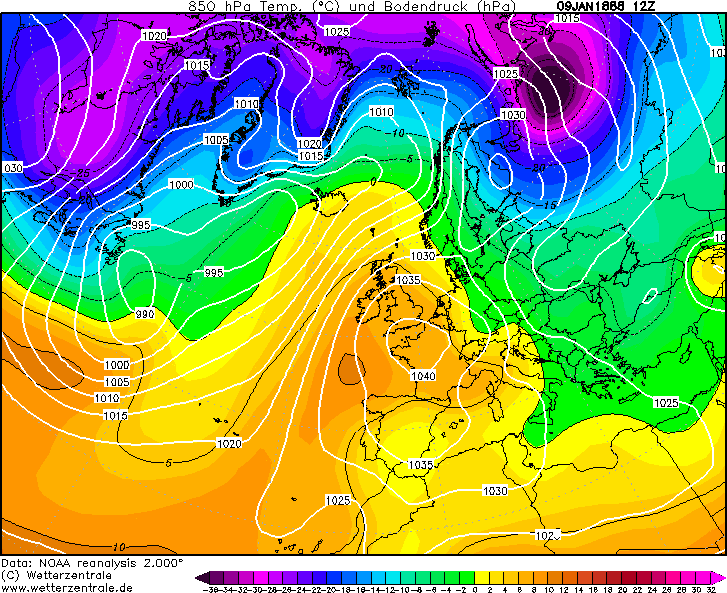 When anticyclonic conditions persist, like in January 1855, Durham can be almost bone dry, with only a few mm of rainfall in total.
Normal January Weather
The normal is not that severe, but typically Atlantic influenced, with occasional frosty nights and a couple of short spells of snow. Snow cover doesn't normally last more than 5-6 days and sometimes the temperature can get into the mid teens, but expect it to be windy and wet too in that case. Warm/Windy and Wet, or Cold/Frosty and Dry, or anything in between.