December 2009 – January 2010
Really cold weather kicked in around 17th December 2009 and didn't let up for a month. Some lowland places had over a month of snowcover between mid December 2009 and mid January 2010. There was disruption on the roads as Councils, used to mild winters, had run out of grit. It had to be rationed in some areas. Freezing fog just before Christmas and heavy snow showers from an Easterly feed left widespread snow at Christmas. The cold persisted with more snow after New Year. The months December 2009, January and February 2010 were the coldest of their name in the record since 1998.
The Met Office have said that Winter 2009/10 was the coldest since 1978/79 in England and since 1962/63 in Scotland. That's pretty impressive.
January 2010
January 2010 was cold, particularly the first half, which averaged -0.2 degC. Here's the diary of that cold spell. Snow had laid on the ground for 29 days by 15th January.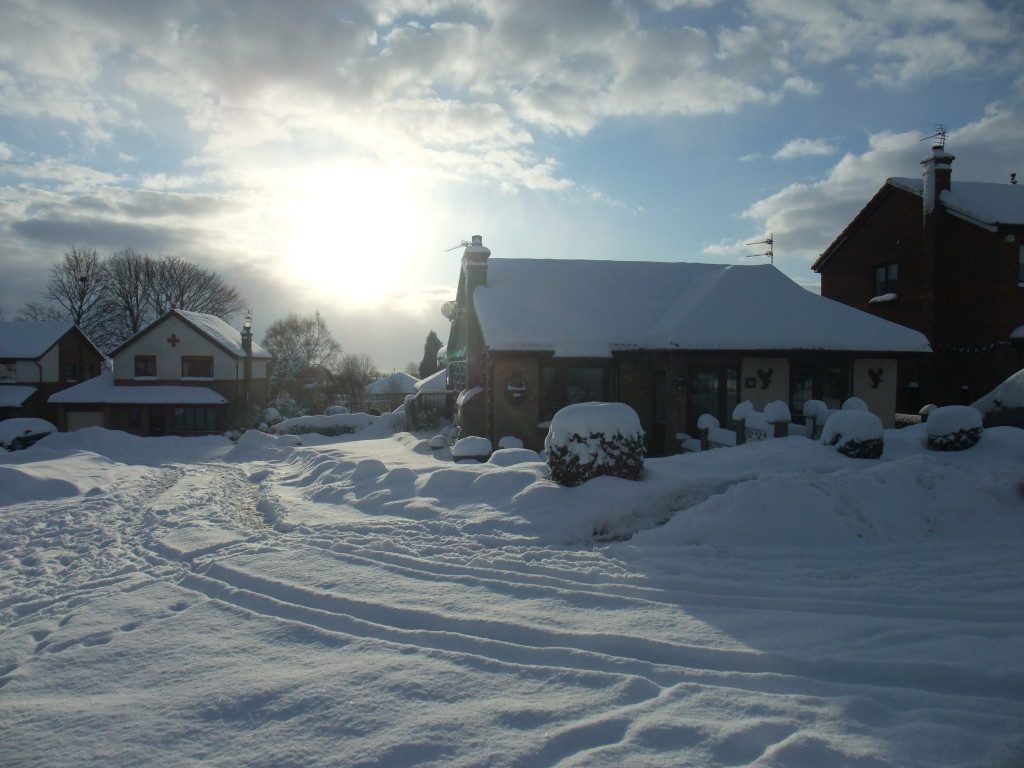 1st Heavy snow showers overnight have left 5-6cm of fresh snow. Showers continuing during today
2nd Snow lying. Period of snow in mid afternoon. Cold, but snow thawing slightly.
3rd Ice day. More snow overnight. 2-3 cm fresh. Very cold. Snow cover now for 17 days.
4th Another day with snow lying. Sunny. Staying cold. Clouding over later.
5th 1cm of snow overnight. Cold and raw. Snow showers increasing this afternoon as wind has more E component.
6th More snow overnight. 3-4cm. Becoming windy from NE. Snow cover now 20 consecutive days.
7th Mainly clear and sunny, but an ice day. Snow in late evening, falling at -3.2ºC.
8th No further snow overnight, mainly sunny, but very cold day. Another ice day. Icicles spectacular in places. Snow tonight
9th A further 3cm added overnight. Very cold E wind. Snow showers pm. Temp above freezing later.
10th Strong thaw underway. Temps up to +2ºC!
11th Thaw continues, but still a snow cover (25 days). Light rain. Strong SE wind
12th Snow cover still holding. Dull and drizzly. Sleety showers in afternoon. Feeling cold.
13th Snow cover still in place, although melted a bit more. Freezing rain overnight. Pavements lethal. Cold and raw. Snow later
14th Another 1cm covering overnight. Slightly foggy too, becoming dense later. Frost returning
15th Snow cover still persisiting (now 29 consec days). Foggy start. Wind freshening from SE. Moderate rain from mid morning
16th Rain continuing. Snow cover almost gone. Cold and windy.
17th Dry and bright. Warmer.
18th Dull and drizzly early. Becoming brighter later. Wind NW. Clear evening with frost forming
19th Clear, frosty morning with fog patches on low ground. Clouding up later.
20th Cloudy and dull. Sleet showers in morning. Drizzly and cold
21st Cloudy and dull.
22nd Dull and cloudy, with drizzle at times. Feeling milder.
23rd Dry but cloudy. Light winds. Ground frost developing later.
24th Early ground frost, then mainly cloudy. A few bright spells in mid afternoon.
25th Very dull. Light snow showers in the morning.
26th Grey day. Still cold
27th Warmer, but windy and damp.
28th Colder again.
29th Bright day with a brisk northerly wind
30th Snow showers overnight giving a dusting. Cold from the north. Snow lying at 0900.
31st Mainly sunny day, although quite cold.