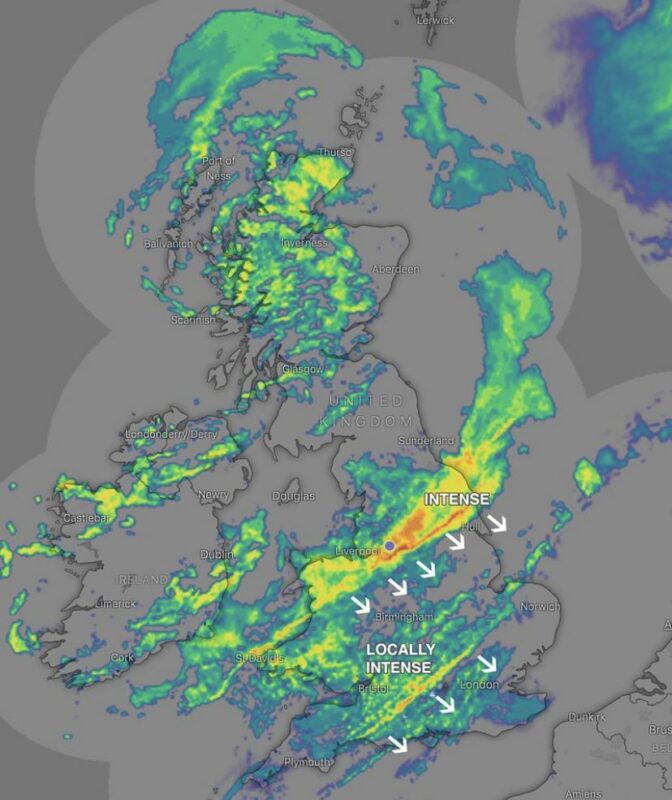 Storm Ciara batters the UK
After spending a fair bit of time concentrating on the wind speeds, we sort of forgot about the rain that Storm Ciara was going to deliver. Thankfully we missed some of the squall lines that hit further south. My total for rainfall was only 22.9mm, but obviously far more fell on the catchment areas on the Pennines.
A walk to the riverside was needed and as I was coming down from Gilesgate I decided the best way was the pathway that goes directly to the river down past Hild and Bede College.
When I got there, the water was already over the riverside path in both directions.
---
To my amazement, there were still people trying to jog along the riverside paths! They were using the little levee between the path and the raging river, with all it's little hidden dips and gaps that are there to catch the unwary. This guy sensibly swapped onto the path and just got his feet wet.
Two kids then came along on their pushbikes. They at least stopped where I was and asked me if I thought it was safe to go on. I explained that it got deeper heading towards Baths Bridge. One of them tried and turned back when it got axle-deep. I wasn't joking! Once their pedals were underwater it was impossible to pedal anywhere.
A near fatal accident involving the river
I then witnessed something so stupid that I only realised afterwards that we could have had another river fatality on our hands. However it does explain why so many supposedly intelligent people manage to end up in the River Wear.
A girl (a student I think) approached from the rowing club direction. She had a rucksack on and she'd decided she was going to just walk along the grass levee. Unlike the jogger in the photo above, she didn't fancy getting her feet very wet on the path, so chanced walking the line on the levee, two feet from the raging river. This all took place about 30 yards to my left.
Unknown to her, and concealed by the water, was one of those little muddy 'chutes that wildlife use. She stepped down Into it and then fell over. She was up to her waist in water, right on the edge of the river. If she'd over-balanced because of the rucksack, she'd have been swept away. It could have even pulled her in, so strong was the current. Somehow, she managed to haul herself back out. How dim can you be????
A lucky escape and as she came past me, dripping wet, she still seemed quite oblivious to the fact that she'd come so close to losing her life. I really do despair sometimes about how little common sense people have. 😳
River Peaked at 3.05m
The river finally peaked at 3.05m. That is about 2.6m above normal.