ACCUR8 A8-DWS5100 WiFi Weather Station – Digital Station with Android & iOS apps
WiFi Weather Station – Digital Station with Android & iOS apps – Internet Connection ACCUR8 A8-DWS5100
Description
About the ACCUR8 A8-DWS5100 WiFi Weather Station
Weather stations – Are ideal for Home Use in the UK. This wireless weather station has WiFi and Sofware App for Android & iOS

Wireless Smart Garden Sensor has a built in rain gauge, wind meter , temperature & humidity monitor . Solar powered integrated wireless sensor suite for outdoors.

WiFi Sofware App for Android & iOS allows for connection to meteorological weather communities such as WunderGround & WeatherCloud where you can publish outdoor weather data

Home weather station – Allows for programable alarm for extreme weather including indoor and outdoor wireless thermometer & humidity highs and lows, as well as barometers, rainfall and wind speed from the weather vane.

Digital Station – Displays all the main instruments such as barometer air pressure, wind speed & direction, rain fall and both indoor & outdoor temperature and humidity.
The Durham Weather Shop - Best buy Weather Stations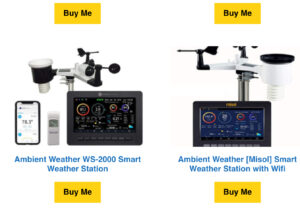 You can buy the
best home weather station
here! I have a little weather shop set up here at the Durham Weather website too (in association with Amazon.co.uk). Anything bought from it will support the site with a small commission, which will keep me in clothes. This is actually how I plan to make millions and move to Spain. I might die first, but at least it'll pay for a memorial candle or two. I typically carry a selection of cost effective (aka cheap) Weather Stations that you can buy
here
. Perfect if you fancy becoming a geek, setting up your own system and starting to observe to prove the numbskulls at the Daily Express wrong! Snow Bombs my arse!
---