ECOWITT WH2320 Wi-Fi Weather Station
ECOWITT WH2320 Wi-Fi Weather Station with Wireless Solar Powered 7-in-1 Weather Sensor PC Software and Weather APP
Category: Weather Stations : Home Weather Monitoring
Tags: air quality, android app, dewpoint, Ecowitt, Ecowitt weather station, ecowitt wifi weather station, ecowitt wireless weather station, indoor thermometer, iOS app, large display, moon phase, outdoor thermometer, personal weather station, rainfall, smartphone app, uv sensor, weather forecast, weathercloud, wifi, wifi weather station, wind direction, wind gust, wind speed, wireless, wireless hygrometer, wireless weather station, wow, wunderground
Description
About the ECOWITT WH2320 Wi-Fi Weather Station
Professional Weather Station: allows you to monitor your home and backyard weather conditions on a large LCD display console and view the weather data and graph via weather app/pc software

Wi-Fi Capable: enables your station to publsih its data wirelessly to ecowitt.net/Weather Underground/Weather Cloud/WOW and view the current weather condition directly via our weather app WS View(needs to add your WU station ID on the app first)

7-in-1 Outdoor Sensor Array: includes wind vane, wind cups, UV / solar radiation sensor, thermo-hygrometer sensor, rain gauge, bubble level and solar collector; updates to your console every 16 second

Real-Time Weather Conditions: measures wind speed and direction, dewpoint, rainfall, indoor outdoor temperature and humidity, barometric pressure, moon phase, solar radiation and UV

Programmable Weather Alarms: Sets high/low alarms for temperature, humidity, barometric pressure, wind, gust, rain rate/rain day, dew point and heat index; With message board function to stream real-time and history min/max weather data
The Durham Weather Shop - Best buy Weather Stations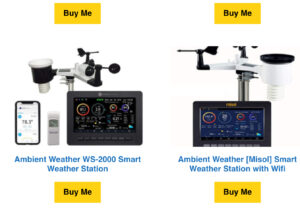 You can buy the
best home weather station
here! I have a little weather shop set up here at the Durham Weather website too (in association with Amazon.co.uk). Anything bought from it will support the site with a small commission, which will keep me in clothes.
I typically carry a selection of cost effective (aka cheap) Weather Stations that you can buy
here
. Perfect if you fancy becoming a geek, setting up your own system and starting to observe to prove the numbskulls at the Daily Express wrong! Snow Bombs my arse!
---