ACURITE Iris (5-in-1) Indoor/Outdoor Wireless Weather Station
ACURITE Iris (5-in-1) Indoor/Outdoor Wireless Weather Station for Indoor and Outdoor Temperature and Humidity, Wind Speed and Direction, and Rainfall with Digital Display (01512M)
Category: Weather Stations : Home Weather Monitoring
Tags: acurite digital weather station, acurite iris, ACURITE Iris (5-in-1) Indoor/Outdoor Wireless Weather Station, acurite weather station forecasting, acurite weather stations, acurite wireless weather station, adjustable screen brightness, barometer, best weather station, dew point, heat index, historical display, home weather station, humidity, inside temperature, large display, outdoor thermometer, rainfall, wifi weather station, wind direction, wind speed, wind vane, wireless weather station
Description
About the ACURITE Iris (5-in-1) Indoor/Outdoor Wireless Weather Station
Real-Time Weather Conditions: Receive readings for indoor outdoor temperature and humidity, wind speed/direction, barometric pressure, and rainfall directly to your home weather station

Weather Clock: Large Color LCD Display with the current time, date, and an adjustable dimmer, making it convenient to read and easily view indoor and outdoor data, time, and conditions from various angles

The Best Weather Station to View Comprehensive Weather Conditions: Monitor pressure trends with trend arrow, heat index, dew point, feels like temperature, and more

Multiple High Precision Weather Instruments all in One: Wireless weather station with a built-in anemometer, wind vane, barometer, hygrometer, rain gauge, and thermometer to give you the data you need to know your environment outdoors and in.Company Based in Lake Geneva, WI, USA – Since 1943

International products have separate terms, are sold from abroad and may differ from local products, including fit, age ratings, and language of product, labeling or instructions.
The Durham Weather Shop - Best buy Weather Stations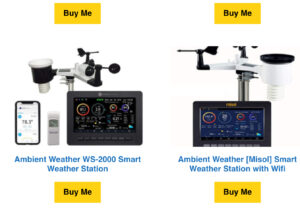 You can buy the
best home weather station
here! I have a little weather shop set up here at the Durham Weather website too (in association with Amazon.co.uk). Anything bought from it will support the site with a small commission, which will keep me in clothes. This is actually how I plan to make millions and move to Spain. I might die first, but at least it'll pay for a memorial candle or two. I typically carry a selection of cost effective (aka cheap) Weather Stations that you can buy
here
. Perfect if you fancy becoming a geek, setting up your own system and starting to observe to prove the numbskulls at the Daily Express wrong! Snow Bombs my arse!
---