Bresser Pirsch ED 8×42 Waterproof Binoculars
Description
About the Bresser Pirsch ED 8×42 Waterproof Binoculars
Our Pirsch ED binoculars are equipped with the latest phase coating and allow the image to be more contrasting and high-resolution

In addition, these binoculars are equipped with the high-performance ED glass, which makes the colours even more radiant and the picture still more colourful

Magnification: 8x/ Lens diameter: 42mm/ Field of view: 125m@1000m/ Luminosity: 27, 56/ Twilight factor: 18, 33/ Near focus: 2 Meter

Dimensions: 145 x 121 x 52 mm/ Weight: 636 g

Binoculars; Nylon case with shoulder strap and harness strap; Broad, padded carrying strap; Protective objective lens caps; Protective eyepiece caps; Large lens cloth; Manual
BRESSER Pirsch ED 8×42 Binocular Phase Coating
Brighter and with more colour fidelity are the binoculars of the BRESSER Pirsch ED Series
As with the premium allround binoculars of the BRESSER Pirsch series the Pirsch ED Series are for every application range the right one, whether on vacation, journey, while hiking or hunting.
Our Pirsch ED binoculars are equipped with the latest phase coating and allow the image to be more contrasting and high-resolution. In addition, these binoculars are equipped with the high-performance ED glass, which makes the colours even more radiant and the picture still more colorful. Colour fringes are prevented by the special high-performance ED glass. It is reinforced by the high-quality fully multi coating. The combination of the built-in Barium-Kron glass material and the Dielectric coating on the prisms makes the picture even brighter and clearer. So they are well placed even at twilight.l makes the picture even brighter and clearer.
The rubber armouring, which is installed all over the binoculars, provides a gripping handling.
All Pirsch ED models are equipped with a wide, very comfortable carrying strap. To complete the package, these models are all purged with high-quality ARGON gas, which protects the binoculars even more from fogging . Of course, the Pirsch ED models are protected against fog and water entry.
Scope of delivery
Binoculars

Nylon case with shoulder strap and harness strap for even more comfort at long trips

Broad, padded carrying strap

Protective objective lens caps

Protective eyepiece caps

Large lens cloth

Manual
Characteristics
Rubber armored binocular body

The robust and rubber-reinforced binocular body is very handy and fits comfortably in the hand.

Large center wheel focusing

For ease of use, there is a large center wheel focusing and under the cover is a tripod connection thread.

Nylon bag

Nylon bag with shoulder strap and harness for even better wearing comfort on long tours.
The Durham Weather Shop - Best buy Weather Stations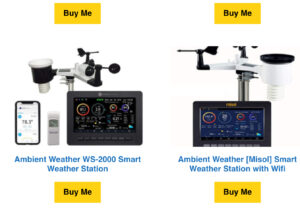 You can buy the
best home weather station
here! I have a little weather shop set up here at the Durham Weather website too (in association with Amazon.co.uk). Anything bought from it will support the site with a small commission, which will keep me in clothes. This is actually how I plan to make millions and move to Spain. I might die first, but at least it'll pay for a memorial candle or two. I typically carry a selection of cost effective (aka cheap) Weather Stations that you can buy
here
. Perfect if you fancy becoming a geek, setting up your own system and starting to observe to prove the numbskulls at the Daily Express wrong! Snow Bombs my arse!
---