WEATHER WARNING !!
We don't need to do this often here, but the North East of England is at threat from Storm Arwen, an extremely potent storm system that will affect us overnight on 26th/27th of November.
Here is the advisory. Please take heed and keep yourselves safe. No doubt there'll be the urge to capture epic weather pics/videos, but please don't put yourselves at risk.
I'll be doing a special article once we get through it. Batten down the hatches and fingers crossed.
UPDATE : Aftermath Photos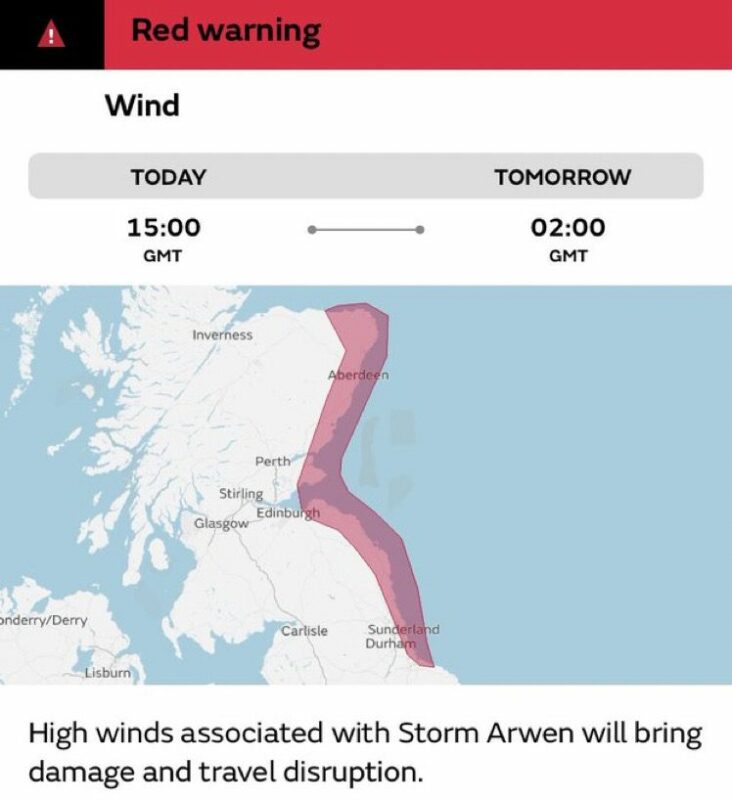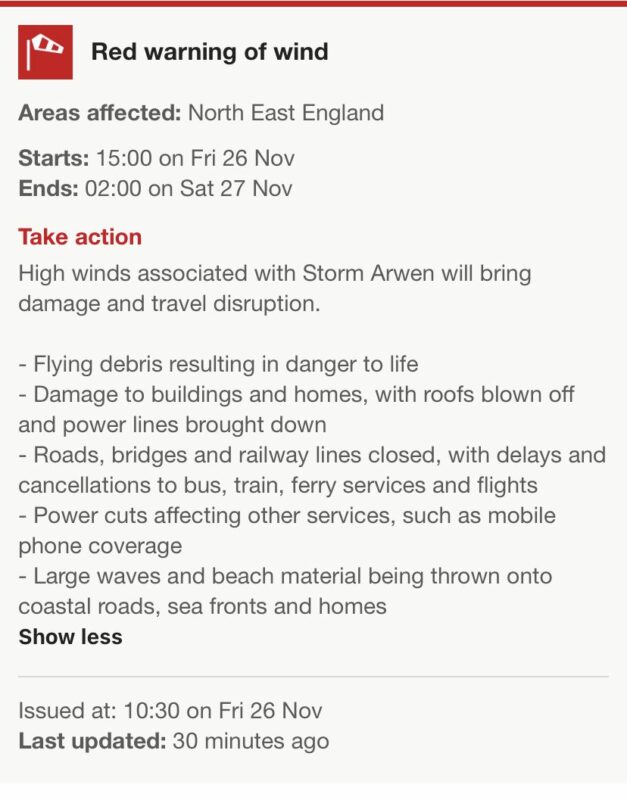 UPDATE by Cllr Chris Fletcher on 27/11/2021
Dear all
I thought that it would be useful to provide a supplementary update to the Durham Winter update after what has been a difficult night.
In some locations winds have nearly reached 100mph, this combined with rain and snow on the higher ground has caused damage to buildings, flooding and a large number of trees to fall and close roads across the county.
The drifting snow and high winds have closed roads at the following locations, gritters and additional plant continue to clear these areas
Weardale Area
A689 Killhope to Cumbria County Boundary Due to Snow
B6295 Cowshill to Allenheads. Due to Snow
B6278 Stanhope to Edmundbyers. Due to Snow
B6278 Stanhope to Egglestone Due to Snow
C20. Crawleyside Stanhope Due to Snow
C21 Rookhope to Allenheads. Due to Snow
C16 Crawleyside Stanhope. Due to Snow
C77 Ireshopeburn to Rookhope. Due to Snow
C78 Westgate to Rookhope. Due to Snow
C28. Westgate to Newbiggin. Due to Snow
C75 Frosterley to Stanhope. Due to Fallen Tree
Bishops Auckland to West Auckland. (old A688) Due to Fallen Tree
C93 Witton Park to Escomb. Due to Fallen Tree
Teesdale Area
B6277 Middleton to Harwood Cumbria County Boundary. Due to Snow. Fallen Trees. And Downed Power Lines
B6276 Middleton in Teesdale to Brough Due to Snow. Fallen Trees and Downed Power Lines
C163. Cotherstone to Bowes. Due to Fallen Tree
Several Unclassified Road near Newbiggin have Downed Power Lines All Winter Maintenance Power Gritters and Trailer Gritter on routes and supplemented by additional plant including
2no Multi Hog Snow Blowers and several Loading Shovels/Loadalls and JCB clearing snow trees and debris
A67 Bowes down to 1 Lane due to Power Line down
Several other roads still partially obstructed by trees and cables but passable with care
We have been informed there are power outages in Upper Weardale/Teasdale and part of Toft Hill also damaged phone masts are hampering communications in some areas. Wolsingham depot has no power and the staff have relocated to Tindale, vehicles are refuelling from Meadowfield and Tindale, additional support staff on top of winter/eats are 4no 2man gangs dealing with flooding.
Flooding
A167 Newton Aycliffe
Tunstal Rd, Wolsingham
A689 Howden to Crook
Crook to Billy Row.
Once cleared they will continue to support with the tree clearing operation, CRM received + 200 calls throughout the night. After moving the obstructions there will be an extensive clean up operation required to clear the debris working closely with colleague in Clean and Green
Both snow blowers including nursey vehicle are working in Weardale Area and 5no loading shovels snow clearing in High Pennine & Low Pennine domains.
The forecast is sub zero almost county wide with extreme cold conditions in High Pennine domains tomorrow morning so we are trying to reopen as much of the priority network as possible during the day.
The managers will continue to update the Road Closure email list and maintain communications
The Durham Weather Shop - Best buy Weather Stations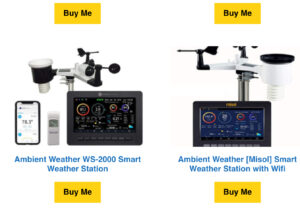 You can buy the
best home weather station
here! I have a little weather shop set up here at the Durham Weather website too (in association with Amazon.co.uk). Anything bought from it will support the site with a small commission, which will keep me in clothes. This is actually how I plan to make millions and move to Spain. I might die first, but at least it'll pay for a memorial candle or two. I typically carry a selection of cost effective (aka cheap) Weather Stations that you can buy
here
. Perfect if you fancy becoming a geek, setting up your own system and starting to observe to prove the numbskulls at the Daily Express wrong! Snow Bombs my arse!
---