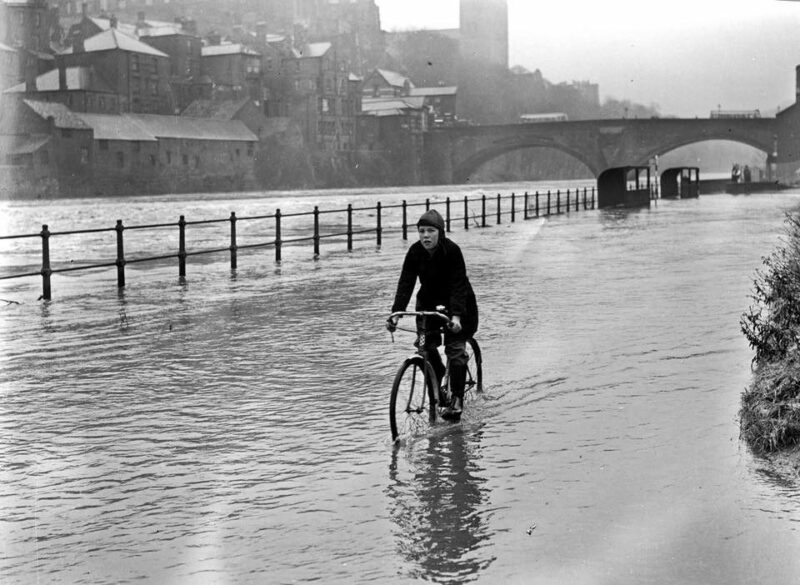 Discovered this one today, via Facebook (credit Julian Harrop and the Beamish Archive). It shows a guy cycling through floodwater in 1950 (unknown exact date). The riverside was a bit different then. The bus shelters can be seen to the right of the photograph (Gypsy Queen, Diamond and Hammel bus stops).
Some of the worst floods ever in Durham were in 1793 and 1903. Here's some data for the 1903 episode.
8th October 1903
Extensive flooding on Tyne, Wear and Tees and also on some smaller tributaries with much urban flooding especially in Sunderland (Details from Echo not provided since it is a prolonged rainstorm.) A depression moving from the Bristol Channel to the Wash brought heavy rain to NE England accompanied by an E to Se gale especially around Newcastle giving rise to floods and interruption of telegraphic communication. Totals decrease inland. Tees flooded in many places including the roads at Croft and Neasham. Yarm was flooded for the first time in 11 years affecting High Street and the Skinyard. Widespread floodplain flooding.
Rainfall: Heavy continuous rain; Middlesbrough Albert Park 2.29"; Middlesbrough Ormesby 2.81" (1.95" in 12 hours); Stockton Rimswell 2.30"; West Hartlepool 2.90"; Hurworth Burn 3.45"; Hart resvr 2.45"; Durham Observatory2.51"; Waskerley Resvr 2.52"; Smiddy Shaw Resvr 2.67"; Seaham Dalton PS 3.14"; Fencehouses 3.25"; Seaham Harbour 2.48"; Ryhope PS 2.84"; W Hendon 2.59"; Sunderland Fever Hosp 2.72"; Claxheugh Grove 3.03"; Sunderland The Cedars 2.94"; Newcastle Clifton Rd 2.67"; Newcastle Lit & Phil 3.66"; Newcastle Northumberland Rd 2.29"; Newcastle Claremont Rd 2.68"; Newcastle Leazes Pk 3.25"; Newcastle Town Moor 3.68"; Jesmond Welburn 3.34"; N Shields 2.58"; Tynemouth 2.50"; Angerton Hall 2.69"; Morpeth Bothalhaugh 3.22"; Morpeth Longhirst 3.45"; Cockle Park 2.87"; Cragside 2.58"; Alnwick Castle 2.68"
Source: BR; Sunderland Daily Echo Oct 9
– from Chronology : NE website