The first half of January 2023 saw temperatures well above average, with 5 days exceeding the 10 degC mark. The warmest day was the 4th, reaching 11.5 degC.
The 10th and 11th were wet, yielding 16.2mm of rain. The 11th turned out to be the wettest day of the month, with 11mm of rain recorded. Rain fell on 23 days, but the monthly total of 42.4mm was below average for January.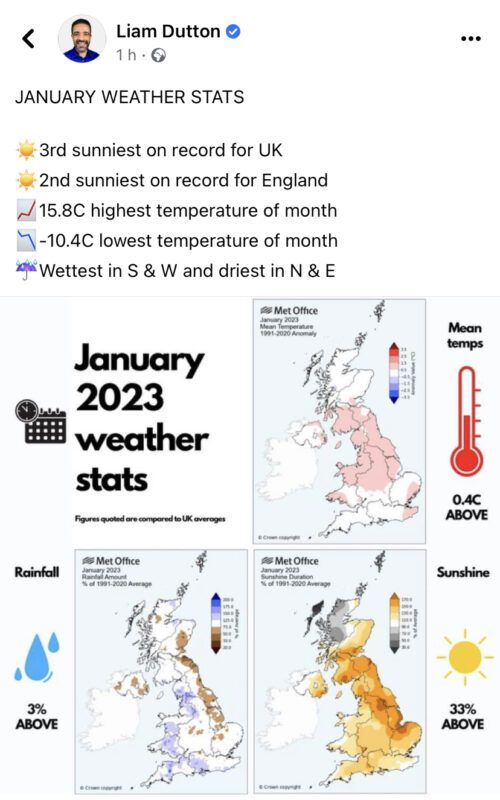 Snow fell on the morning of 16th January 2023, and a cold spell set in from 15th-22nd. Extensive frost and some light snow showers, although no significant accumulations.
The papers got hold of the threat of snow and put their usual snowmageddon spin on things. In reality a week of typical winter weather was all that was being forecast, despite the usual sensationalism of people like Exacta/Madden.
There were some moderate snow accumulations on the high ground in the west and north, as well as Wales and Northern Ireland.
There were 4 'Freezing Days' during the cold spell on 16th, 17th, 21st and 22nd, but no 'Ice Days'.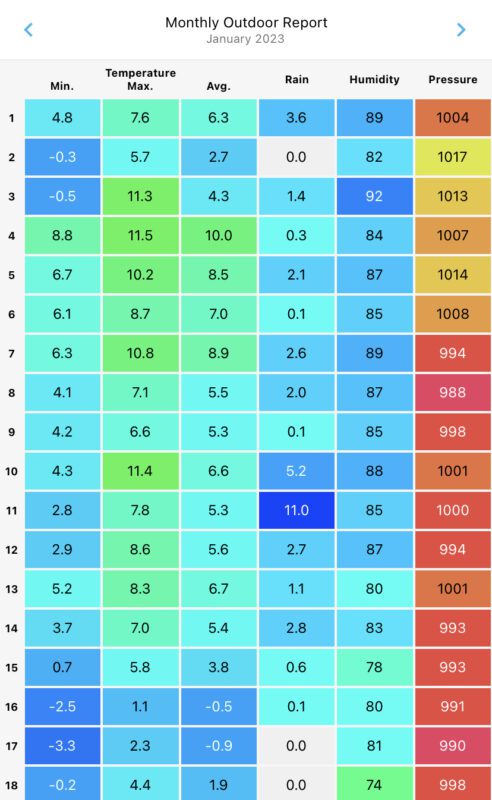 January 2023.
The month of January 2023 had a very mild and wet first half, colder and drier second half, resulting in close to average temperatures overall nearly everywhere.

It was particularly cold in parts of Scotland midmonth. The highest temperature of the month was 15.8 degC at Dyce (Aberdeenshire) on the 24th, and the lowest -10.4 degC at Drumnadrochit on the 19th.
Overall rainfall was about average at 103% of the long-term average across the UK, although much of the rain fell in the first couple of weeks. It was wetter in the west, and drier in the northeast. 100.2 mm of rain fell at Maerdy Water Works (Mid-Glamorgan) on the observing day 11-12th.
It was a very sunny month, being the second sunniest for England (just behind the exceptionally sunny January of 2022) and third sunniest for the UK overall (also behind January 1919), at 133%, but it was quite dull in NW Scotland. The deepest snow depth was 34 cm at Loch Glascarnoch on the 18th.

There was a marked absence of very windy days, with no named storm.
(Visited 159 times, 1 visits today)