February 1986 (who remembers that one then?) was one of the coldest Februaries ever recorded in modern times.
Trevor Harley, in his famous weather summaries pages, describes February 1986 thus:
"February 1986. Extremely cold (-1.1C CET), with frequent light snowfalls. The second coldest February of the 20th century (after 1947), and fourth coldest month of the twentieth century overall (and the last time a month had a mean beneath zero before December 2010).
The month was similar to January 1963 in being a completely blocked month, with a high centred over north Russia bringing some very cold air east. Winds were easterly for 23 days, and were of virtual calm for the remaining days. It was the most easterly month on record apart from February 1947. Easterly winds had already set in by the end of January.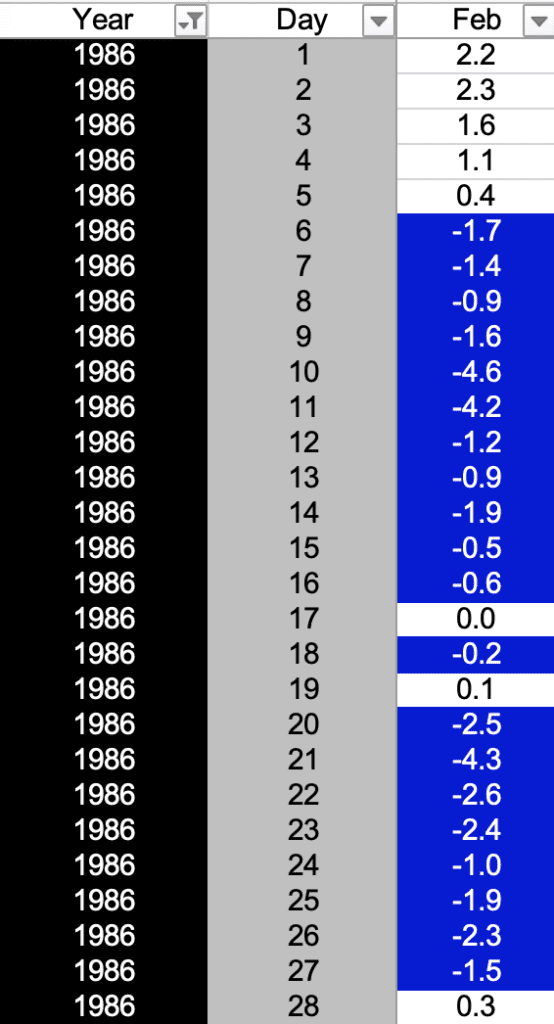 Snow cover was widespread in the east, where it was very dull: Cupar (Fife) registered only 41 hours sunshine all month. In the west it was very dry and sunny (144 hours sunshine on Anglesey, higher than summer months there; with no measurable rain at all in some western coastal sites). The lowest temperature was at Grantown-on-Spey, where it reached -21.2C on the 27th.
The month was most remarkable for the consistently low maxima; the temperature remained beneath 1C at Buxton (Derbuyshire) all month. The lowest temperature around Birmingham was -11.0C, at Elmdon, on the 21st, and the highest, just 3.8C on the 28th. There was freezing rain in the north Midlands. Up to 50 mm of glaze was recorded on broken power lines at Buxton on the 2nd.
Widdybank Fell, at 513 m above sea level in County Durham, remained beneath freezing all month, and had a total of 32 consecutive days beneath zero – probably a record "for a inhabited area" (Trevor has obviously never been to Widdybank Fell, it's wild, desolate, and definitely not inhabited!). I remember our toilet freezing and a six inch icicle growing out of the toilet cistern overflow. I reckon this is the last time I experienced a temperature beneath -10C. The cold persisted into early March.
For some reason I find that February 1986 is often "the forgotten month" when one talks about extreme winters in Britain. Perhaps this is because there wasn't any widespread serious disruption due to heavy snow over a wide area, perhaps because there weren't any record-breaking low temperatures, and perhaps because the rest of the winter was unexceptional. Indeed, some parts of the country had no snow at all. Nevertheless, it was the coldest month since January 1963. It was also the second driest February of the century. Hence I make this the most interesting February of the century".
http://www.trevorharley.com/weather_web_pages/1986_weather.htm
(Visited 660 times)